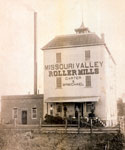 Millville was founded under the name of Bucksnort in 1837, so named because a man by the name of Buck McGaugh laid out the town into lots, streets, and alleys. The first settlers, the sons and daughters of the pioneer families, objected to residing in a town by that name and took advantage of the first opportunity to change the name.


In the year 1865 a man by the name of J. M. Carter came to Bucksnort and built a large flouring mill and the name of the village was changed to Millville. The mill was located on the east bank of the east prong of Crooked River. Mr. Carters mill was steam operated and bore the name Millville Mill. The farmers had their wheat ground there to provide flour for their families. The Carters left Millville several years later, taking their mill to Hardin, Missouri, where they continued in the milling business.

The first mill ever in Millville was a water-powered gristmill for grinding corn, operated by Robert Mitchell in 1837.
submitted by: Meredith Kincaid